Have you had tree removed in the past and been left with just the unsightly tree stump?  Is the tree stump in the way of work you wish to have done or maybe in a position where it is dangerous or a trip hazard? If the answer is yes and you are looking for a reliable and professional local tree stump removal service, then The Tree Doctors are here to help!
As established and experienced tree surgeons we provide a variety of professional tree surgeon services which are suitable for commercial landscapes, residential gardens and undeveloped open spaces covering the West Midlands.
As your local tree stump removal service, we have all the tree surgery expertise you need to successfully treat a number of tree and vegetation issues.
Why Choose The Tree Doctors as your Local Tree Stump Removal Service?
The tree Doctors are known as one of the leading and most trusted tree surgeons in the West Midlands with 5-star reviews - but don't just take our word for it, read our reviews here.
For local tree stump removal services, the Tree Doctors offer:
Any size tree stump ground out
Minimal ground disturbance
Modern and efficient machinery to remove stumps of all sizes quickly and efficiently
Fully insured
We remove all waste and dispose of this for you, so no mess is left behind.
Fully qualified – City and Guilds qualified including other professional associations
Chas accredited contractor
Emergency removal service
Free advice on the best solution for both you and the tree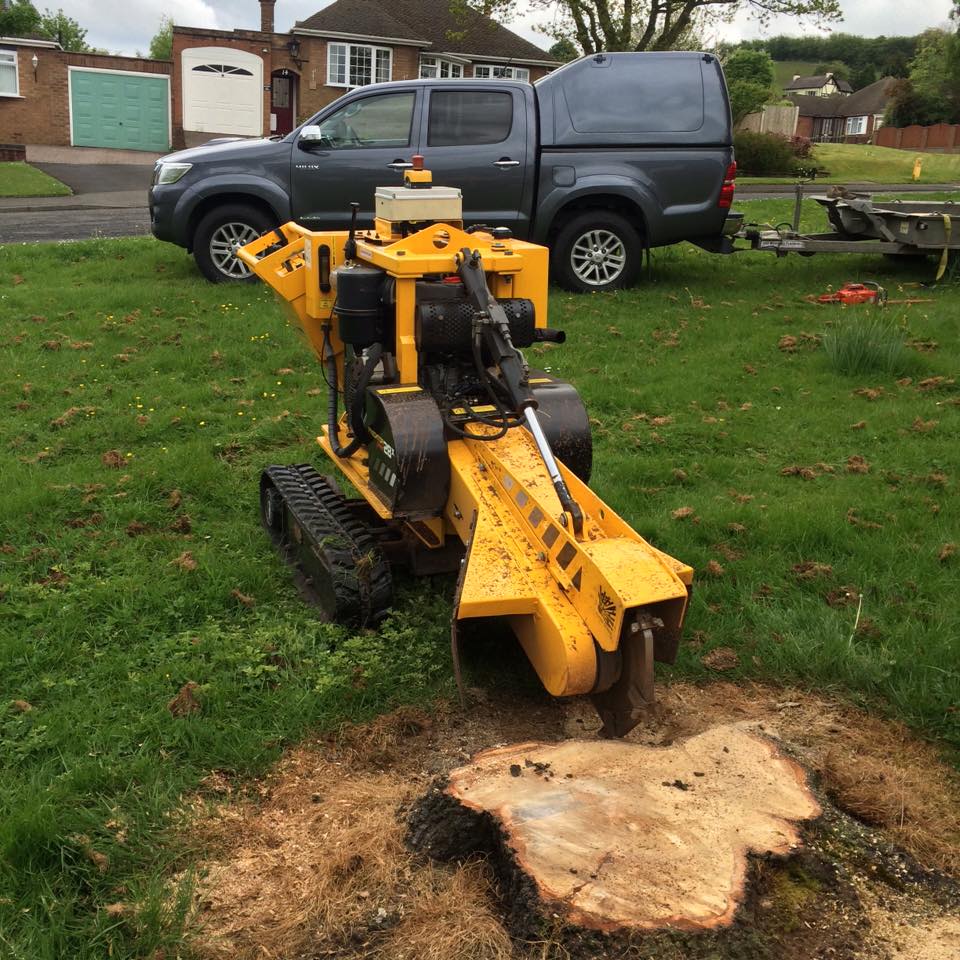 The Tree Doctors are based in Halesowen; however, we cover the whole of the West Midlands for any type of domestic or commercial tree removal service – making us the ideal choice for your local tree stump removal service.
Tree surgeons Walsall
Tree surgeons Cannock
Tree surgeons Wolverhampton
Benefits of Having Your Tree Stump Removed
Whatever the size or location of your tree stump, there are many benefits to choosing to have it removed by a local tree stump removal service.  Whether you want to remove the stumps to make way for new plants, the stump is getting in the way of your gardening or development plans or just to make sure the tree you have had cut down and previously removed does not grow back by forming new roots in the left behind stump.  The risk of any diseases in the roots left behind is also minimised which can spread and cause damage to surrounding ground, trees and shrubs.

For more information on how we can help with a local tree stump removal service, get in touch with The Tree Doctors today!  We are happy to answer any questions you may have or can provide you with a competitive price for any work you need undertaking.
Contact us on 0121 585 8993 or complete the contact form below and one of our experts will be in touch.