The Tree Doctors - Forestry Muchling
Are you in need of forestry mulching? Mulching is suitable for commercial landscapes, residential gardens and undeveloped open spaces. The Tree Doctors are skilled local tree surgeons that use the most advanced forestry mulching machinery to clear land fast and efficiently.
A forestry mulcher shreds plants with a spinning drum loaded with steel hammers. This heavy-duty machine can remove many acres of vegetation in a single day, making it excellent for clearing land, clearing footpaths, clearing scrubland and paddocks, and managing vegetation.
Forestry Mulching & Vegetation Clearance
Mulching machines minimise several of the procedures needed in land clearances and clean-up by treating trees and other plants where they are. Multiple devices, including excavators, tree shears, woodchippers and grinders, as well as hauling equipment, are no longer required. Just one mulching machine is needed, which saves time, money, fuel, and emissions – perfect for to keep our environment healthy.
Forestry Mulching devices can clear areas of unwanted trees and shrubs while causing minimal soil disturbance. By pushing over trees, removing stumps and roots, and significantly disrupting soils, traditional land clearing practices often increase the danger of erosion. Mulching the vegetation, on the other hand, preserves the soil structure. The mulched material can be kept on the ground to act as an erosion barrier while decomposing and returning nutrients to the soil. Grass will grow naturally through the mulch over time and can be managed by mowing.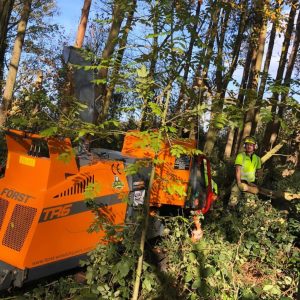 Forestry mulching & more!
We provide both professional domestic & Commercial services, including:
For more information on how we can help with anything forestry related, get in touch with The Tree Doctors today!  We are happy to answer any questions you may have or can provide you with a competitive price for any work you need undertaking.
Contact us on 0121 585 8993 or complete the contact form below and one of our experts will be in touch as soon as possible.