The Tree Doctors perform reliable tree removal services throughout Bromsgrove. We work with numerous long-standing clients in Bromsgrove and the surrounding areas, who trust us to fully complete a job, whilst ensuring the protection of their property and land.
The Tree Doctors provide tree removal operations bespoke to a client's requests, thanks largely to the development of specialist equipment we have at our disposal, but also due to the expert team we employ who are dedicated to executing successful tree removals. Our team are all qualified to City and Guilds industry standards. We will consult and guide clients as to how what they are looking for can be best achieved, in terms of disruption-avoidance to their space, job completion in a time-efficient manner, and with competitively priced costs proportionate to the work.
If you run a business or own a commercial space in Bromsgrove and require a tree removal operation, we quote services for this sector, as well as for residential land. This includes office parks, building sites and public walkways. Our experience in commercial tree removals has grown significantly in recent years and we are now the leading company in the West Midlands for the service. And what is very much peripheral is the sense that all of this cannot be for just one purpose.
The Tree Doctors will not dismiss any job we are capable of finishing, which is almost all jobs. Whether you need a tree felled, stump removal or a commercial site cleared, we are your people.
Enquire about a free consultation today!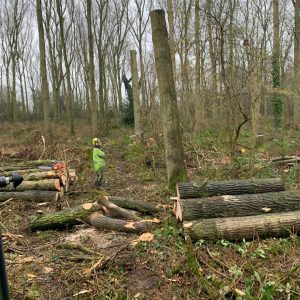 Tree Stump Removal
Tree stump removal takes a tree root out of the ground through the process of stump grinding. This can be done as a precautionary measure following tree felling to prevent infection from spreading out of the felled tree's roots. Infection is a frequent reason why trees need to be felled.
We advise avoiding tree felling if possible, but sometimes it is necessary if other trees are endangered or if there is a good chance a tree will cause damage to property.
Site Clearance
Usually done as part of commercial tree removal when areas require flattening pre-building work, such as retail park or office block sites. The Tree Doctors will level the space completely, removing all trees and natural obstacles so that building work can commence.
Get in Touch
Contact The Tree Doctors for more information about our tree removal services in Bromsgrove, or get a quote by filling in the contact form below!